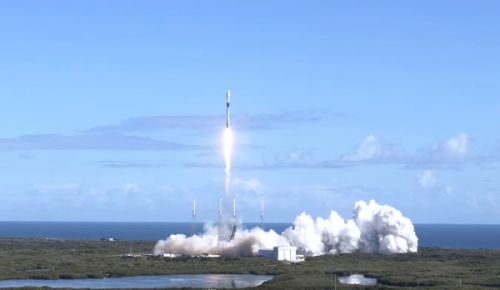 A Falcon 9 heavy launch vehicle belonging to the SpaceX company (United States) successfully launched 105 small satellites into orbit on Thursday, 13 January.
The CFTS portal reported this, citing the Interfax Ukraine news agency.
According to Ukraine's State Space Agency, the Falcon 9 launch vehicle also launched Ukraine's Sich-2-30 satellite into space.
The launch, which was part of the Transporter 3 mission, began with a blastoff from pad 40 at Cape Canaveral (Florida State) at 10:25:39 a.m. EST (1525:39 GMT) on Thursday.
Approximately 1.5 hours later, the rocket launched 105 small spacecraft belonging to almost 30 operators from two dozen countries into sun-synchronous orbit. The weight of each satellite does not exceed 200 kg.
"The spacecraft separated from the upper stage 1 hour 23 minutes 06 seconds after the launch of the launch vehicle. The National Center for Control and Testing of Space Vehicles, which is located near the city of Dunaivtsi, established a stable connection with the spacecraft during the third orbit after two communication sessions. All the satellite's onboard systems are operating normally, and its solar panels have been deployed," the State Space Agency said in a statement.
The cost of launching a single small satellite is USD 1 million.
The launch of the Sich-2-30 satellite is part of Ukraine's space program. The country plans to launch constellations of Ukrainian satellites – six more satellites with a high spatial resolution (1 meter) and one with an ultra-high resolution (0.5 meter) – into orbit by 2025. In total, eight satellites will be launched.
"The Sich-2-30 satellite is intended for performing civilian tasks and tasks involving the digitalization of the economy and monitoring natural and man-made emergencies. Ukraine will expand the scope of the spacecraft to the sphere of security and defense, particularly to assist the Ukrainian Armed Forces, in the second phase of the program," the agency said in a statement.
The Sich-2-30 satellite was designed, assembled, and tested by the Pivdennyi Design Bureau (Dnipro) in cooperation with the Ukrainian enterprises Khartron-Arkos (Kharkiv), NPP Khartron-Yukom LLC (Zaporizhia), the state-owned CJSC NIIRV (Kharkiv), the Arsenal design bureau (Kyiv), the Koneks state scientific research and manufacturing enterprise (Lviv), LC IKD (Lviv), and PO Kyivprilad (Kyiv).