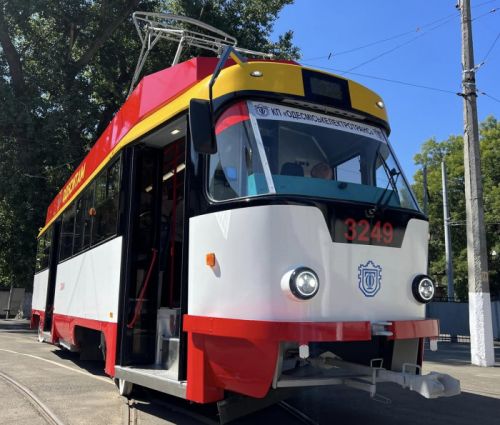 A Tatra T3 tramcar has been overhauled, reconditioned, and retrofitted in Odesa. An Odesa electric transport utility installed a modern air-conditioning system in the passenger compartment of the tramcar for the first time.
The Odesmiskelektrotrans public transport utility announced this in a statement, the CFTS portal reports.
According to the statement, the overhaul and reconditioning extended the service life of the rolling stock by 10 years.
In addition to the air-conditioning system, vandal-resistant chargers, as well as visual and audio information devices, were installed in the passenger compartment of the tramcar. Its handrails were coated with modern wear-resistant powder paint and, its seats were covered with branded upholstery.
The technical improvements of the tramcar include the improvement of the fire safety level by moving the high-voltage (600 volts) fuse under the tramcar; the installation of a transistor-pulse control system for the electric traction motor, which reduces the power consumption by 40%; the relocation of electrical equipment, some of which was installed on the roof; the installation of energy-efficient exterior and interior LED lighting.
The driver's compartment was equipped with a new control panel and an air conditioner.
As previously reported, Odesmiskelektrotrans used to assemble Odyssey trams.