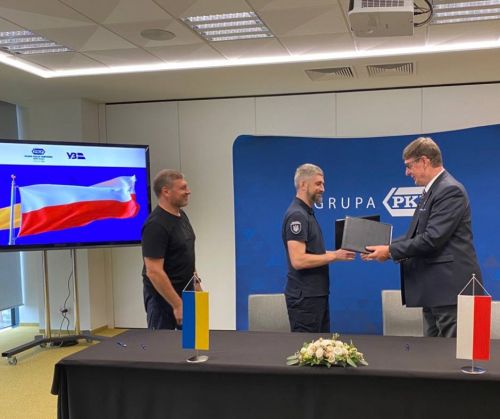 The Polish and Ukrainian railways have agreed to work together to develop rail passenger and freight transport between the two countries in order to increase the countries' export and import potential. This is the first agreement of this level signed between the railways of the two countries since 1994, said Yevhen Liaschenko, the head of the Ukrainian Railways Joint-Stock Company (JSC Ukrzaliznytsia).
Ukrzaliznytsia announced this in a statement, the CFTS portal reports.
The Polish railway operator, Polskie Koleje Państwowe Spółka Akcyjna (PKP S.A.), and JSC Ukrzaliznytsia signed the agreement on 28 August 2023.
"We are taking another step towards strengthening the partnership between Ukraine and Poland and developing rail transport between the two countries. Together, we will continue to develop border infrastructure and increase passenger and freight traffic between our countries, which will ultimately have a positive impact on our railways and the economies of Ukraine and Poland," Liaschenko said.
Under the terms of the agreement, PKP S.A. will prepare measures to conclude separate agreements with Ukrzaliznytsia on the management of railway infrastructure and the transportation of freight and passengers by rail. The two companies will also set up joint working groups to prepare individual agreements.
One of the principles of the agreement is to ensure safe and uninterrupted transportation of passengers and goods by both parties.
In addition, the parties agreed that the transshipment of goods into wagons of a different track gauge or the switching of wagons onto bogies of a different track gauge is to be performed by the carrier that is receiving the goods at the border station located in its territory, but the carrier that is delivering the goods may also perform such operations at the border station located in its territory if both parties agree.
The servicing of locomotive-hauled freight trains between border stations for freight traffic in both directions will be performed by Ukrzaliznytsia and PKP S.A. locomotives and locomotive crews on a 50/50 basis.