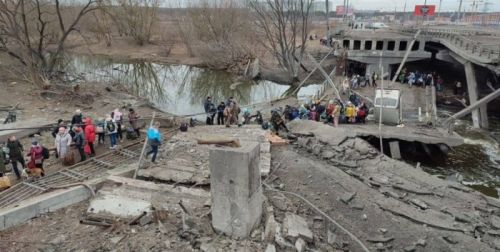 Ukraine's direct one-time losses due to the Russian Federation's military invasion of the country exceed USD 500 billion.
Ukraine's Prime Minister Denys Shmyhal announced this, the CFTS portal reports, citing the Interfax Ukraine news agency.
"The relevant group has already been created in our government, and it has already begun assessing the economic losses resulting from the Russian aggression. Preliminary calculations indicate that Ukraine's direct one-time losses currently amount to more than USD 500 billion. These are essentially the funds that will be needed to rebuild our country – including reparations from the Russian Federation and funds from our partners –for Ukraine to recover and become what it was before the war," Shmyhal said at a joint press conference with the prime ministers Poland, the Czech Republic, and Slovenia on 16 March.
A week ago, the Ministry of Infrastructure of Ukraine estimated the damage to Ukraine's transport infrastructure alone at more than USD 10 billion.