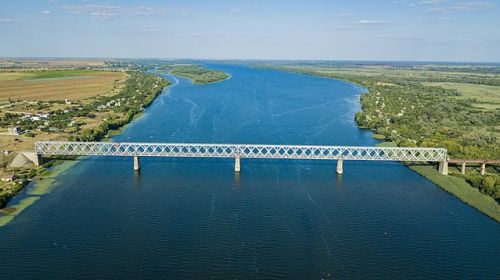 The Ukrainian military attacked the Antonivskyi railway bridge across River Dnipro, which is located 6 kilometers from the Antonivka road bridge near Kherson, in the early hours of 4 August.
The Ukrainian Armed Forces' Strategic Communications Department announced this in a statement, the CFTS portal reports, citing the Priamyi outlet.
"A 'carriage with princes' turned into a fireworks show and a concert on the Antonivskyi railway bridge at exactly midnight, as confirmed by the time on the video recorder. It seems that not only the bridge itself, but also the 'humanitarian goods and fertilizers' were hit," the Strategic Communications Department joked in a statement in the Telegram application.
The Russian mass media also confirmed that the bridge was shelled at night, but they did not report the extent of the Russian occupiers' losses.
As reported previously, the Ukrainian Armed Forces attacked the railway bridge on 27 July.
The Ukrainian military also shelled the Antonivskyi road bridge, which is currently disabled.
The bridges are being attacked to prevent uninterrupted delivery of Russian weapons and equipment to the right bank of River Dnieper.