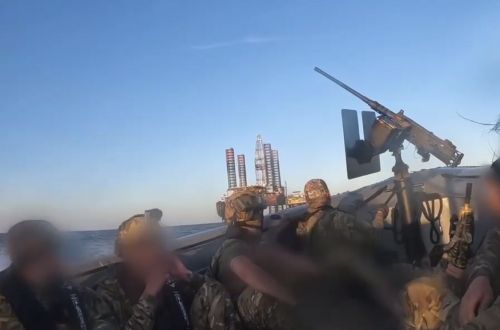 Special forces of the Main Intelligence Directorate of the Ukrainian Defense Ministry have dismantled a piece of radar equipment that Russia used to monitor the Black Sea from a drilling rig near the Crimean coast (known as the "Boiko tower").
This is stated in a video released by the Main Intelligence Directorate, the CFTS portal reports.
The video shows that the operation was conducted in two stages. In the first stage, Ukrainian special forces inspected the drilling platform and dismantled the spy equipment. In the second stage, the dismantled equipment was taken away in high-speed inflatable boats. Unguided helicopter missiles were also found on the rig and were also removed.
A Russian fighter jet attacked the Ukrainian troops when they were leaving the drilling platform. However, the troops hit the fighter jet with a man-portable air defense system, after which the fighter jet left the battlefield.
"Control over the Petro Hodovalets and Ukraina drilling platforms, as well as the Tavrida and Syvash jack-up drilling rigs, have been regained. The special forces managed to seize valuable trophies during the operation: a stockpile of unguided helicopter munitions (unguided aircraft missiles), as well as a Neva radar capable of tracking the movement of ships in the Black Sea," the Main Intelligence Directorate said.
"As a result, Russia lost the ability to use the so-called Boiko towers for military purposes today. The loss of the reconnaissance equipment on these towers deprives Russia of the ability to fully control the Black Sea," it added.
As previously reported, Ukraine struck the Boiko Tower in June 2022.