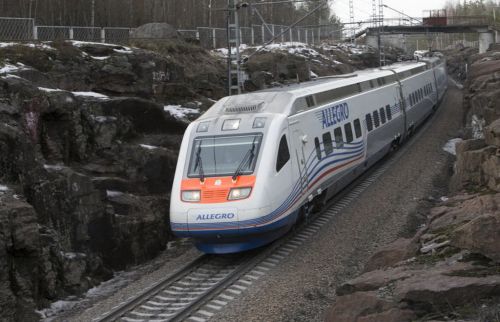 The Ukrainian Railways joint-stock company (Ukrzaliznytsia) has requested that Finland hand over the four Allegro high-speed trains that previously operated on a route between Helsinki (Finland) and St. Petersburg (Russia).
The CFTS portal reported this, citing Yle, Finland's national public broadcasting company.
According to Yle, Ukrzaliznytsia's head Oleksandr Kamyshyn met with Finland's Prime Minister Sanna Marin in person during her visit to Kyiv, and representatives of the Ukrainian railway company handed the Finnish prime minister a petition concerning the Allegro trains.
The requested high-speed trains operated on the Helsinki - St. Petersburg route in 2010 and are suitable for the Ukrainian track gauge. The trains stopped operating on this route in March 2022 and the VR Group mothballed them in August 2022.
Ukrzaliznytsia said that these trains could be used for transporting people to and from the occupied territories.
However, the VR Group emphasized that the rolling stock belongs to Oy Karelian Trains Ltd., a joint venture established in 2006 by Russian Railways and the VR Group. "In other words, VR cannot hand over or make decisions about the future of the trains unilaterally," VR's Director of Urban Transport Topi Simola told the Finnish News Agency (STT).
The Allegro trains have been in Helsinki since the suspension of the Helsinki - St. Petersburg train service last year. According to Simola, the trains have been in minimal maintenance and would require so-called start-up maintenance before they could be put back into service.