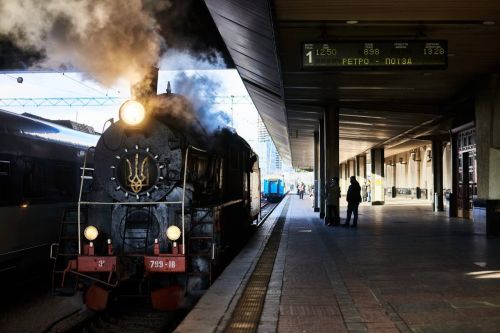 The Ukrainian Railways joint-stock company (Ukrzaliznytsia) has a scheduled retro train pulled by steam locomotives for the Christmas and New Year holidays.
Ukrzaliznytsia announced this in a statement, the CFTS portal reports.
According to the statement, a commemorative/excursion locomotive will operate in the capital city on three consecutive weekends (on 24, 25, and 31 December and on 1, 7, and 8 January).
"Fabulous assistants of St. Nicholas will greet you at the station, and pupils from the Kyiv Children's Railway will take you on an interesting excursion into the history of Kyiv in the carriages," Ukrzaliznytsia said in the statement.
The train will consist of two vintage steam locomotives from 1954 and five passenger cars with seats, including a buffet car.
The train will depart from the Central Railway Station's first platform at 12:34. The journey will take a little more than one hour.
Ticket prices start from UAH 138 for an adult and UAH 104 for a child.
"If there is an air-raid alert before the train departs from the Kyiv-Pasazhyrskyi station, the journey will be postponed until 14:00. If the air-raid alert is not over by 14:00, passengers will be asked to hand in their tickets and come on another day," Ukrzaliznytsia said.