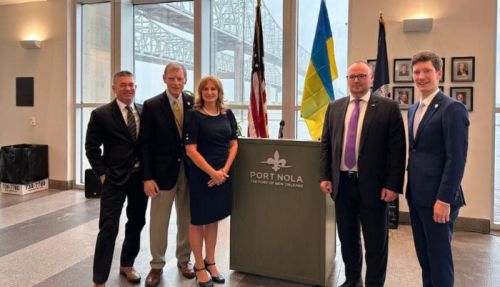 The Ukrainian Sea Ports Authority (USPA) has announced that the Port of South Louisiana (PortSL) and the Port of New Orleans will help rebuild Ukraine's maritime infrastructure, the CFTS portal reports.
The relevant memorandum of understanding was signed this week between the USPA and the ports of South Louisiana and New Orleans.
PortSL CEO Paul Matthews signed the document on behalf of the United States. Consul General Vitalii Tarasiuk represented Ukraine.
According to the memorandum, the parties intend to cooperate in the areas of technical planning, development, construction, administration, and operation and maintenance of port infrastructure.
The memorandum also provides for cooperation with the Odesa seaport.
"As two of the world's leading grain exporters, the farmers and workers of the United States and Ukraine are tough and take pride in their role in feeding the world. This MOU solidifies Port of South Louisiana's support for the Ukrainian people in the defense of their freedom and creates an alliance with our Ukrainian port partners that focuses on our shared mission of serving global customers and creating economic prosperity for our communities," said Matthews.