The first Tram 2000 tramcar from Zurich (Switzerland) was delivered to Vinnytsia on 1 April. Out of the 35 tramcars stipulated in the relevant agreements, 16 should arrive in Vinnytsia in 2023.
Vinnytsia Mayor Serhii Morhunov announced this in a statement the CFTS portal reports.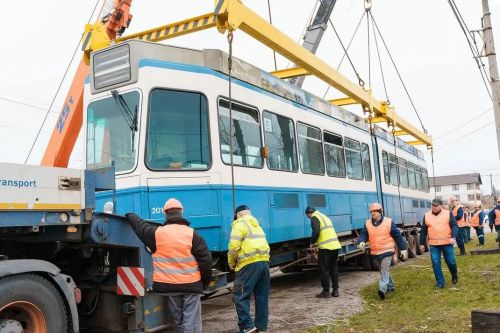 "For passengers, this model of trams from Zurich is more comfortable than the Mirage and Karpfen models that are already familiar to Vinnytsia residents. The cabin has soft seats and a good ventilation system. In technical terms, they are also more economical in electricity consumption. They have a more modern control system," Morhunov said.
According to him, Vinnytsia plans to begin operating the Tram 2000 tramcars on its routes in the summer after completing the necessary tests and certification.
As reported earlier, the first batch consists of eight tramcars.
The Tram 2000 tramcars were manufactured in Switzerland in the late 1980s. The trams, which do not have low floors, have a length of 21.4 meters. They are designed to carry 50 seated and 54 standing passengers.
The agreement on the supply of 35 used tramcars of this model was reached in 2021, but the war interrupted its implementation.
Before that, the Vinnytsia received 116 used tramcars of the models Karpfen and Mirage from Zurich.