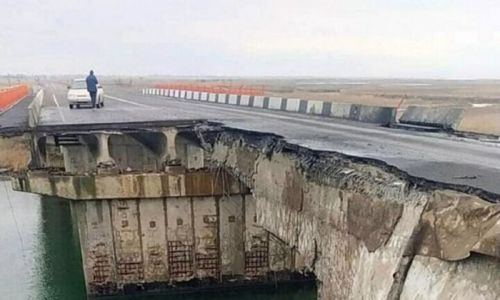 The total direct damage to the Ukrainian economy as a result of the damage and destruction of residential and non-residential buildings and infrastructure exceeded USD 105.5 billion or more than UAH 3.1 trillion as of 25 May and the direct economic losses increased by more than USD 8 billion during the week.
This is stated in a study that the Kyiv School of Economics' KSE Institute conducted under the "Russia will Pay" project, the CFTS portal reports.
"The increase of the total amount of damage this week is due to the increase of the destruction of the housing stock and enterprises, as well as due to the inclusion of the losses inflicted on the Ukrainian retail industry," the study states.
According to estimates by the Ukrainian Economy Ministry and the KSE, Ukraine's total economic losses due to the war range from USD 564 billion to USD 600 billion, including both the direct losses calculated under this project and the indirect losses (GDP decline, cessation of investment, outflow of labor, additional spending on defense and social support, etc.).
At the same time, analysts estimate the increase of the losses resulting from the destruction of the housing stock during the week at an additional USD 5.5 billion. As of 25 May, the total amount of damage to the housing stock was USD 39.3 billion.
Mariupol, Kharkiv, Chernihiv, Severodonetsk, and Lysychansk were the worst affected by the destruction of the housing stock. In total, more than 44 million square meters of housing space has been damaged, destroyed, or lost due to the war.
"The total amount of documented direct damage to Ukrainian enterprises has already reached USD 11.3 billion. This figure increased by USD 591 million during the past week. At least 227 enterprises, plants, and factories have been damaged or destroyed since the beginning of Russia's war against Ukraine," analysts said in the study.
The study also provided figures for the losses of passenger cars. According to the study, almost 105,000 passenger cars worth almost USD 1.6 billion have been lost, with the Donetsk, Kharkiv, Lugansk, Chernihiv, and Kyiv regions worst affected.
According to the study, the losses inflicted on educational institutions also increased by USD 103 million to USD 1.5 billion during the week. The damage inflicted on healthcare institutions increased by USD 45 million.
The infrastructure that has been destroyed since the beginning of Russia's war against Ukraine includes at least 23,800 kilometers of roads, 6,300 railway lines, 41 railway bridges, 643 healthcare facilities, 1,123 educational institutions, 621 kindergartens, 192 cultural buildings, 115 religious buildings, 178 warehouses, 99 administrative buildings, 28 oil depots, and 19 shopping centers.