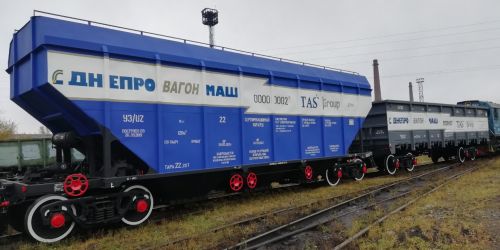 The Dniprovahonmash railcar manufacturing plant produced 623 freight cars in 2022.
These figures were published in the Ukrainian edition of the Forbes Magazine, the CFTS portal reports.
Despite the war, the plant's freight-car production figure for 2022 is 35% higher than the figure for 2021, when it produced 461 freight cars.
The plant reported a profit of UAH 32.7 million and revenues of UAH 1.1 billion for 2022.
As reported earlier, Serhii Tihipko's TAS group, which includes Dniprovahonmash, has acquired 40% of the shares in TransAnt GmbH (Austria), which is a developer of innovative freight cars.
Dniprovahonmash has been producing key components for modular railcars since February 2022. Earlier, the plant received international certification.
The Parliamentary Committee on Economic Development's Deputy Chairman Dmytro Kysylevskyi believes that cooperation with European companies will help the Ukrainian railcar manufacturer to fully master the technology for the production of the latest European railcars.