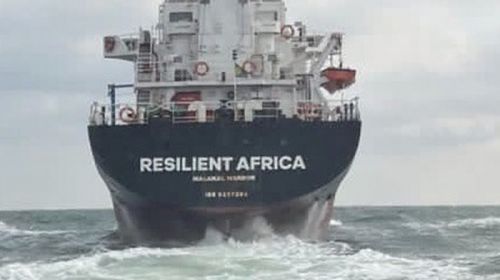 The bulk carrier "Resilient Africa," one of the first two vessels to enter a port in Greater Odesa to load grain after the termination of the Black Sea grain deal, has reached Turkish territorial waters, and it was approaching the Bosporus as of 09:00 on 21 September.
Data from ship traffic tracking services confirmed this, the CFTS portal reports.
As previously reported, the bulk carriers "Aroyat" and "Resilient Africa" were the first two vessels to use the temporary Black Sea corridor that Ukraine established for ships sailing to its ports. Earlier, five vessels that had been stuck in the ports of Odesa and Pivdennyi since the beginning of the full-scale Russian invasion left through the corridor.
The two vessels were scheduled to load 20,000 tons of wheat for delivery to Africa and Asia.
The "Aroyat" is still in the port of Chornomorsk.
"After the vessels that were stuck because of Russian aggression exited the ports of Odesa, Chornomorsk, and Pivdennyi through the temporary corridor, the bulk carriers 'Resilient Africa' and 'Aroyat' have confirmed their readiness to use the route to travel to the port of Chornomorsk... The vessels are flying the flag of Palau and their crews consist of citizens of Turkey, Azerbaijan, Egypt, and Ukraine," Ukraine's Deputy Prime Minister for Reconstruction/Minister of Communities, Territories, and Infrastructure Oleksandr Kubrakov said recently.