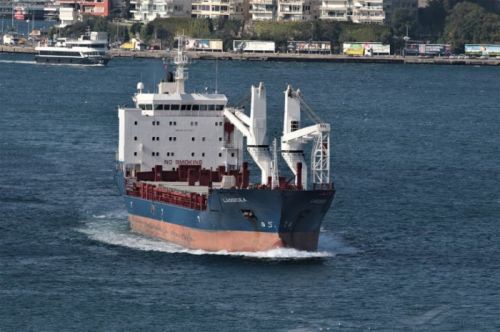 On the evening of August 3, a court in Lebanon annulled its previous rulings, which prohibited the bulk carrier Laodicea from leaving the port of Tripoli and unloading.
As the LIGA writes, Ukrainian Ambassador to Lebanon Ihor Ostash informed Krym.Realii about this.
He noted that this decision "was a surprise to Ukrainian diplomats".
"We practically caught them by the hand, but, unfortunately, we were very surprised by the court's decision tonight," the ambassador said.
The court annulled all previous decisions and allowed the ship to sail to Syria.
"This means that they are simply running away. They are shamefully running away from Lebanon," Ostash stated.
A few hours before that, the ambassador published evidence on Facebook that the dry cargo Laodicea was loaded with flour from Berdyansk, temporarily occupied by Russia.
"We received an indisputable testimony that the flour that Laodicea was transporting was not from Russia, but from the occupied Crimea," the ambassador said.
To confirm that, he published two photos - with the marking of bags, on which the producer is directly indicated as the elevator in Chervonogvardiyskyi, which is in the temporarily occupied Crimea, and with the tracking of wheat transportation from occupied Berdyansk to Chervonogvardiyskyi.
The Ministry of Foreign Affairs of Ukraine has already reacted to the decision of the Lebanese court with an official statement. They believe that in this way Lebanon encourages the continuation of Russian thefts and alienates Ukraine as a partner.
According to the diplomats, despite the evidence provided, the court did not take into account the Ukrainian authorities position.
"This decision actually encourages Russia to continue thefts in the temporarily occupied south of Ukraine with a sense of impunity. In addition, with such a decision, Lebanon actually undermines its own food security, pushing Ukraine away as its reliable partner," the statement said.
The Ministry emphasized that Ukraine has always made efforts to ensure Lebanon's food security: it was in the first place among grain exporters to this country in 2021, and the first ship with grain from Odesa since February 24 is also headed to Lebanon.
In addition, in coordination with the Ukrainian owners of the stolen cargo carried by Laodicea, Ukraine offered the Lebanese side to buy flour and barley at a discounted price. Instead, the decision of the Tripoli court allowed the sanctioned vessel to leave the port of this city with the stolen cargo without hindrance.
The Ministry of Foreign Affairs of Ukraine called on Lebanon to cancel the decision to lift the seizure and to take measures to prevent further attempts to use this country to store stolen Ukrainian grain.