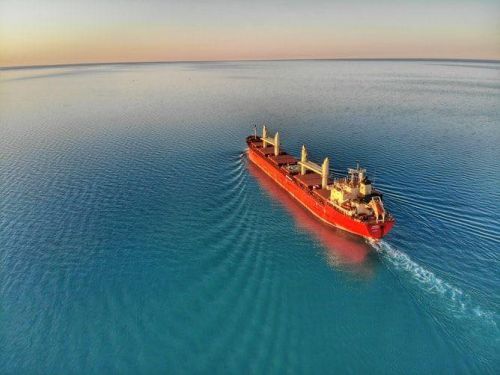 On Wednesday, July 13, the quadripartite talks were held in Istanbul between representatives of Ukraine, Russia, Turkey and the UN regarding the possibility of resuming grain exports through Ukrainian seaports and regarding the corresponding security guarantees.
As CFTS writes, referring to the information of the member of Ukrainian Parliament Oleksiy Honcharenko, the parties agreed "to discuss control in ports and security on the routes of vessels with grain". In addition, according to him, there it was reached an agreement due to wich Turkey, under the auspices of the UN, will look after the vessels involved in the grain transportation in order to take measures to combat the transportation of weapons.
"Next week, Ukraine and Russia will meet again in Turkey on the "grain issue", where they will sign the final document", Honcharenko added.
At the same time, as a newspaper Ukrainska Pravda writes with reference to Turkish sources, "an agreement was reached on technical issues, such as joint control at the points of port departure and arrival and ensuring navigational safety on transfer routes".
Later the head of the Office of the President of Ukraine Andriy Yermak announced that "Ukraine has proposed to form a basic algorithm for the operation of navigation in the Black Sea. This will ensure the export of Ukrainian grain and guarantee food security for millions of people around the world". He confirmed that, as a result of the negotiations, the parties agreed to form a joint coordination center under the auspices of the UN, which will be located in Istanbul. Its task will be to carry out general monitoring and coordination of safe navigation in the Black Sea.
For his part, UN Secretary-General Antonio Guterres said that during the meeting in Istanbul, the parties achieved "critical" progress on the issue of grain export from Ukraine by sea. "Today we saw a critical step forward to ensure the safe export of Ukrainian grain through the Black Sea," he said, adding that the negotiators did not conclude an agreement, but agreed to work on it. Guterres also mentioned that the negotiations took place "a ray of hope".
As Andrii Stavnitser, co-owner of the TIS terminal group (Ukraine), commented on the results of the negotiations, "the creation of a coordination commission is not exactly the result that was expected from the meeting in Istanbul, but it already sounds like a step".
"The participation of the UN in this process is critical... There is no military solution to the blockade yet, now is a time of a difficult diplomacy. I want to believe that if the Russians come up with some new trick this week, the UN and Turkey will influence the decision to block the export of their oil products. It is oil - not gas - that is currently paying for the war against Ukraine," the businessman added.