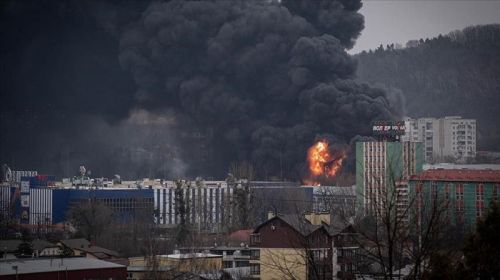 On the morning of October 10, the Russian Federation launched several waves of missile strikes across the territory of Ukraine. As a result of massive shelling, civilians were killed, and critical infrastructure objects were hit.
As CFTS reports, according to the Commander-in-Chief of the Armed Forces of Ukraine Valery Zaluzhny, as of 11 a. m., the Russians fired 75 missiles into the territory of Ukraine, 41 of which were shot down by Ukrainian air defense forces. It was also reported about Iranian kamikaze drones launched by the Russians, also from the territory of Belarus.
As a result of the strikes, energy infrastructure was damaged in several regions of Ukraine. "The enemy is carrying out a missile attack on power facilities and civil critical infrastructure. Power supply interruptions are possible in the cities and settlements. Power engineers are promptly using backup power schemes and working to repair the damage," Ukrenergo said.
The President of Ukraine, Volodymyr Zelenskyi, in his operational video message from Kyiv, noted that today's Russian missile strikes are aimed at causing human casualties in order to demoralize the population and damage the energy infrastructure.
"We are dealing with terrorists. Dozens of missiles, Iranian "Shakheds". They have two types of targets: energy facilities throughout the country - Kyiv region and Khmelnytskyi region, Lviv and Dnipro, Vinnytsia, Ivano-Frankivsk region, Zaporizhzhia, Sumy region, Kharkiv region, Zhytomyr region, Kirovohrad region, the south. They desire panic and chaos, want to destroy our energy system. They are hopeless. The second target is people. They have chosen such a time and such goals to cause as much damage as possible," said the President of Ukraine.