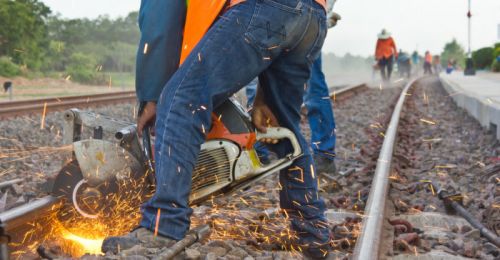 The Ukrainian Railways joint-stock company (Ukrzaliznytsia) has completed the restoration of the rail infrastructure and the repair of the overhead lines on the railway section between Kharkiv and Izium.
Ukrzaliznytsia announced this in a statement, the CFTS portal reports.
"Today, full-fledged electric trains began operating on the Kharkiv - Izium route instead of rail buses, which were used to provide rail links on this route until the restoration of the infrastructure," the company said in the statement.
Two pairs of trains currently operate on this route: No. 6403 Kharkiv Passazhyrskyi - Izium (departure from Kharkiv at 07:00, arrival in Izium at 10:54); No. 6404 Izium - Kharkiv Passazhyrskyi (departure from Izium at 16:53, arrival in Kharkiv at 20:48); No. 6426 Izium - Kharkiv-Levada (departure from Izium at 11:10, arrival in Kharkiv at 15:29); No. 6427 Kharkiv-Levada - Izium (departure from Kharkiv at 11:58, arrival in Izium at 16:37).
According to the statement, the replacement of rail buses with electric trains increases the number of seats available to passengers.
"In addition, Ukrzaliznytsia overhauled one of the electric trains operating on this route at its own facilities during the full-scale war. This has made it possible to provide high-quality and comfortable rail transport services to residents of Ukrainian cities liberated from the occupiers," Ukrzaliznytsia said.