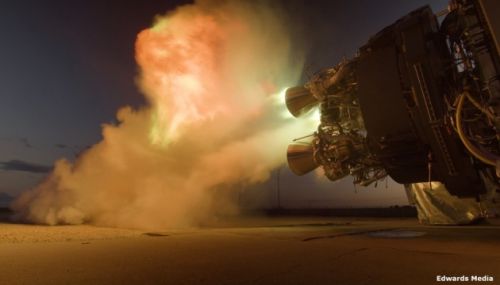 Ukrainian entrepreneur Maxim Polyakov's United States-based Firefly Aerospace has successfully tested the Reaver engines for its Alpha launch vehicle, the CFTS portal reports, citing the Ukrinform news agency.
The test of the Alpha launch vehicle's first stage engines took place on September 20. "The four Reaver engines performed 35 seconds of thrust-vector control maneuvers, challenging the flame deflectors to constrain all that Reaver power," the company said in a statement.
According to the company, this test was a major step in Firefly's march to its first flight.
The Alpha launch vehicle is currently at the Vandenberg Air Force Base. Its maiden flight is scheduled for late autumn 2020.
Firefly Aerospace is headquartered in Austin (Texas). It has a research and development (R&D) center in Dnipro.
Firefly Aerospace develops small and medium-sized launch vehicles for commercial launches to orbit. The company is a proponent of NewSpace, a movement in the aerospace industry whose objective is to increase access to space through innovative technical advances resulting in a reduction of launch cost and the lessening of regulations and logistical restrictions associated with dependence on national space institutions.
Ukrainian entrepreneur Maxim Polyakov bought all the company's assets, patents, and licensing agreements. Firefly Aerospace was founded on the basis of the EOS Launcher company, which Polyakov founded, and the Firefly Space Systems company, which he acquired. Polyakov's total investment in FSS was USD 75 million.
As reported earlier, the Pivdennyi machine-building plant (Yuzhmash), an aerospace manufacturer, reached agreement with Firefly Aerospace on production of rocket parts worth about USD 15 million last year. They include 100 combustion chambers, 500 pieces of automation units, and 40 turbo-pumps.