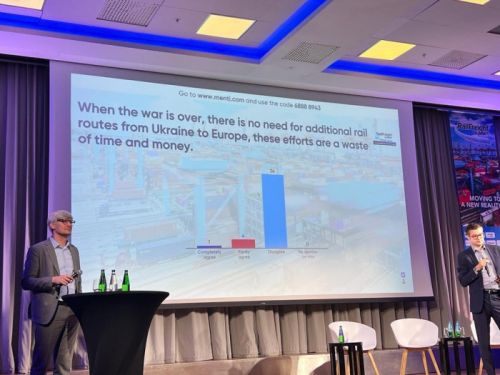 The organizers of the 2022 RailFreight Summit, which was held in Warsaw (Poland) from 7 to 8 September, asked the participating companies whether they considered it a waste of time and money to establish new rail links with Ukraine, considering the fact that the war will end someday. The vast majority of the respondents said it was not a waste of time and money.
The question was raised during a speech by one of the representatives from Ukraine Volodymyr Demenko, who is the CEO of the Levada Cargo company, a subsidiary of the Lemtrans company, the CFTS portal reports.
It turned out that only five of the surveyed companies believe fully or partially that the new EU-Ukraine railway infrastructure will become unnecessary after the war. However, 36 expressed the opposite point of view.
According to Dominik Landa (HHLA), the rail freight industry must accept that the new reality of logistics will remain after the war. He said that cargo flows could take years to return to Russia's Baltic ports, such as the St. Petersburg port, even when the war is over.
Bartłomiej Felczyński, who represented the DCT Gdansk container terminal, said that his company's expansion plans already take the factor of Ukraine's integration into Europe into account, "We are planning to expand not only on the Polish market, but also to the wider Eastern European market, including Ukraine."
In his speech, Demenko said that new border terminals and investments in European port infrastructure, additional wagons, and containers were needed to increase the throughput of the rail links between Ukraine and the European Union. "All these are quite large investments, but a significant transport volume will remain in these transport corridors even after the war," he said.
In general, Demenko's speech on "Trade and Transport during the War" focused on the key challenges, limitations, and opportunities on the Ukraine-Poland overland railway corridor. For example, according to him, the company's team has identified simple things that can be done today to increase the volume of cross-border transportation without significant investments. "For example, a system of quotas for Ukrainian cargoes in EU ports, quick performance of border control procedures, increased coordination of the transportation process with EU countries, improvement of technological processes, etc.," he said.
As reported previously, the Levada Cargo company (as a part of Lemtrans) and the Rail Trans Investment company began building the Mostyska intermodal terminal near the Ukrainian-Polish border even before the beginning of the Russian invasion.