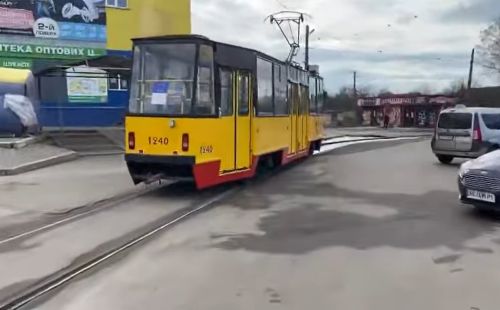 The running tests of the first Konstal tram donated by Warsaw (Poland) have begun in Konotop.
Mayor of Konotop Artem Semenikhin announced this in a statement, the CFTS portal reports.
The Polish tram was transferred from the subway trolleys on which it operated in Warsaw onto trolleys suitable for the 1520 mm track gauge that is used in Ukraine.
As reported earlier, the Konotop authorities recently appealed to the Warsaw tram authority to donate unneeded tramcars. The Warsaw tram authority selected 23 tramcars that are currently being withdrawn from service because of the delivery of new Hyundai tramcars.
The first six Konstal tramcars donated by Warsaw arrived in Konotop in late February.
The Konotop tram system is one of the shortest in Ukraine (it is only 28 kilometers long and has three routes), and Konotop is the second smallest Ukrainian city with a tram system (after Druzhkivka). The launch of the Konotop tram system was initiated by the city's residents, who built the tram system in 1949. At least 3,000 citizens took part in the construction of the tram system, using the "people's construction method" without funding and approved design estimates. The city received the rails, sleepers, tramcars, and transformers for its tram system as gifts from the railway and several cities.
The Konotop tram system stopped operation in 2018 but later resumed operation. The city received nine used Tatra tramcars from Riga in 2019.