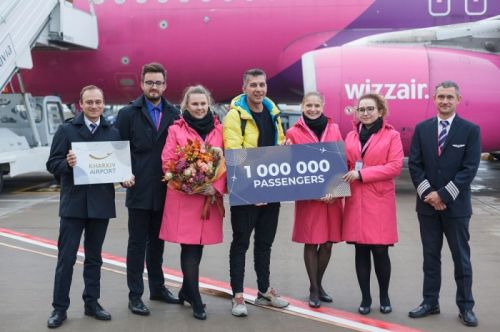 Kharkiv International Airport welcomed its one-millionth passenger of 2021 on November 8th. The passenger was Romanian citizen Peter Farkas, who flew to Kharkiv on a Dortmund-Kharkiv flight operated by the Wizz Air airline.
The aircraft carrying the one-millionth passenger was welcomed with a water arch. Representatives of the airport congratulated the passenger and presented him with gifts on the gangway. He also received certificates for tickets from Wizz Air, VIP services at the Kharkiv airport, and a visit to the restaurant at the VIP terminal.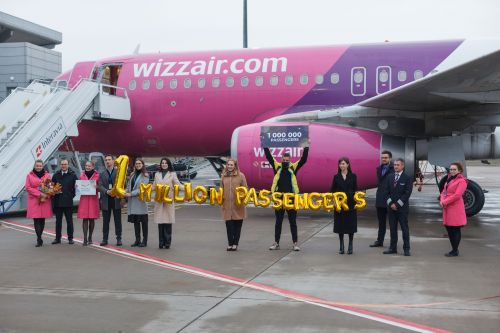 Before, Kharkiv International Airport also reached the one-million-passenger mark in 2019, which was a record year for the airport. In 2020, the airport's passenger volume was lower due to restrictions related to the Covid-19 pandemic, but in 2021 it is approaching the pre-quarantine level.
"We have essentially managed to return to the pre-crisis indicators this year. We are grateful to our partners: the airlines that continue to trust us and fly from Kharkiv airport despite the difficult times for the travel industry. Of course, we are also grateful to the passengers who are choosing our airport for their travels," said Volodymyr Vasylchenko, the general director of New Systems AM, which operates Kharkiv International Airport.
"We are proud to be part of this event, giving our one-millionth passenger additional travel opportunities. We hope to see even more travelers onboard our young and modern fleet," said Paulina Gosk, corporate communications manager at Wizz Air.
As the CFTS portal reported earlier, the Odesa airport handled its one-millionth passenger of this year on 8 October. The one-millionth passenger flew from Berlin on a Ryanair flight.
Read also Qatar Airways Announces Launch Of Flights From Odesa