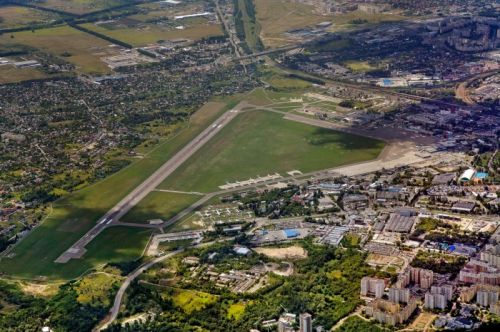 Picture: Oleh Belyakov
The Kyiv city administration has ordered commencement of reconstruction of the airfield complex at the Kyiv International Airport (Zhuliany).
The airport announced this in a statement on Monday, the CFTS portal reports.
The reconstruction, which is planned for 2021-2025, includes extension of the airport's runway by 500 meters to 2,810 meters, construction of new taxiways and aprons, replacement and installation of airfield lighting and radio navigational aid systems, etc.
The project will raise the class of the aerodrome and allow at least ICAO CAT II ILS aircraft approach and landing (which means a more accurate and safe approach).
"The main goal is to improve flight safety, reduce the noise and environmental burden. As a result, the airport will be able to receive modern aircraft with higher passenger capacity and lower noise levels, such as the Airbus A321 aircraft, after the reconstruction, which means that it will be able to reduce the number of flights despite increased passenger traffic. In addition, the Airbus A321 is a modern, efficient, and safe aircraft with a low noise level, which is very important for the capital city's airport," the airport said in the statement.
The drafting of the design estimates for the facility will be financed by the Kyiv airport.
"Funds for future financing of the reconstruction of the Kyiv international airport's airfield will come from the city budget or loans. The exact amount of funds required for the reconstruction work and the sources of the funds will be determined after completion of the design phase," the company said.
As reported, the Kyiv city council backed the expansion of the Kyiv airport at the end of January. The decision to allocate a 0.25-hectare land plot for this purpose was made at a meeting of the Kyiv city council's standing committee on architecture, urban planning, and land relations. This decision will allow extension of the airport's runway by 500 meters.
The Kyiv airport handled 704,500 passengers last year.