A Russian barge has entered the port of temporarily occupied Berdiansk presumably to export another batch of grain stolen from Ukrainian farmers.
This was announced in a statement in the "Berdiansk Online" Telegram channel, the CFTS portal reports.
According to the statement, residents of the city witnessed the arrival of the Samarskaya-1, a Russian non-self-propelled barge, in the port on 26 August. It is highly likely that the barge will soon export another batch of stolen Ukrainian grain.
"In photographs, it outwardly resembles our 'old friend' the Samarskaya-1, which began appearing in the port of Berdiansk in April 2023," the statement said.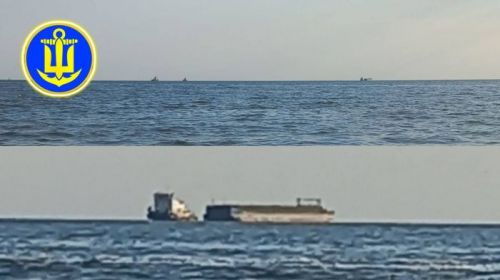 The barge entered the port of Berdiansk on 15 April this year to load stolen grain.
As the CFTS portal previously reported, two Russian commercial vessels entered the port of Berdiansk at the end of May. One of them was loaded with stolen Ukrainian grain and the other with metal. It was reported on June 1 that Russian ships were operating more actively in the occupied port and that Russian military equipment was being unloaded at one of the port's berths. The Ukrainian Armed Forces attacked Russian equipment in the port on 2 June.