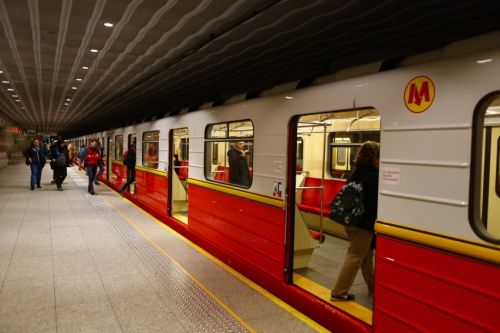 Subway train that is intended for donation to the Kyiv subway performed its farewell trip in Warsaw on 29 March.
The CFTS portal reported this, citing the Warszawa Nasze Miasto publication.
Decorated with the flags of Ukraine and Warsaw, the train traveled from the Młociny station to the Na Kabatach terminus on Warsaw's M1 subway line.
The Warsaw Metro has decided to donate 10 Soviet and Russian trains of the 81 series manufactured in the 1980s and 1990s to Kyiv. They were manufactured for the Polish capital at factories in St. Petersburg and Mytishchi (near Moscow) from 1989. They have been transporting passengers for almost 28 years, i.e., since the opening of the M1 subway line in 1995.
In total, Kyiv will receive 60 wagons worth PLN 40 million. They will be delivered soon. All these wagons have valid certificates of technical operability.
As reported, the Warsaw Metro announced in October last year that it would assist the Kyiv subway in the modernization of the trains of the 81 series used in Ukrainian subways. It stated at the time that the Warsaw Metro had 22 trains of the 81 series.