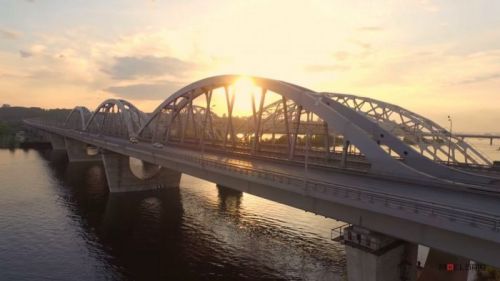 The State Road Service (Ukravtodor) and the Ukrainian Railways joint-stock company (Ukrzaliznytsia) have signed a memorandum on completion of the construction of the Darnytskyi road-rail bridge in Kyiv, the CFTS portal reports.
Ukravtodor and Ukrzaliznytsia signed the memorandum on completion of the construction of the Darnytskyi Bridge at the "Ukraine 30" forum.
Ukrzaliznytsia and the Dniprhyprotrans design institute also signed an agreement on adjustment of the bridge's design to allow resumption of construction work.
The bridge will remain on the books of Ukrzaliznytsia, and Ukravtodor will provide full management and operational assistance to ensure prompt completion of its construction.
"The work will begin in the summer. All the work will be completed by the end of 2021," said the Office of the President of Ukraine's deputy head Kyrylo Tymoshenko, who was present at the signing of the memorandum.
The Darnitsky Bridge was built from 2004 to 2011 and partially commissioned. it was opened to train traffic and automobile traffic from/to the right bank of River Dnipro from 2010 to 2011.
The construction of the bridge was then suspended indefinitely. It has been an uncompleted construction project for more than 10 years.
As the CFTS portal reported, the construction of the bridge was 82.4% complete as of the end of February 2018. The cost of completing the construction of the automobile part of the bridge was estimated at UAH 1.15 billion at that time.