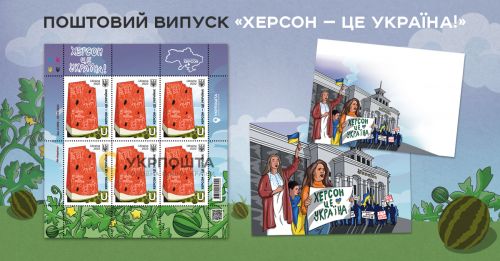 In support of the Armed Forces of Ukraine and in honor of the liberation of Kherson from the Russian occupiers, the Ukrainian national mail operator Ukrposhta will issue the stamp "Kherson is Ukraine!".
"This is the first postage stamp that is dedicated to a hero city, after which other heroic cities will definitely follow... This year we were not able to enjoy Kherson watermelons, but postal philately cannot leave Ukrainians without one of the symbols of the Kherson region, that is why slices of watermelon with additional artistic plots can be seen on the new postage stamp," commented Ukrposhta's general director Ihor Smilyanskyi.
The circulation will be 150,000 stamp sheets or 900,000 postage stamps. The face value is UAH 12 per stamp or UAH 72 per sheet of 6 stamps. The set will include: a stamp sheet, an envelope and a postcard. It can be ordered only by separate order.
Details regarding the release date of the stamp and the terms of sale will be announced later.