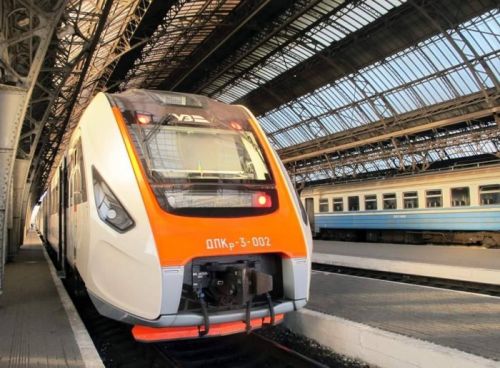 The Ukrainian Railways joint-stock company (Ukrzaliznytsia) has launched the operation of the regional train No. 814/813 on the Lviv – Polish border – Chelm (Poland) route from 25 March.
The train will make stops at the Pidzamche, Chervonohrad, Ivanychi, Volodymyr-Volynskyi, Kovel, and Yahodyn stations, the CFTS portal reports, citing Ukrzaliznytsia.
DPKr-3 diesel trains manufactured by the Kryukov Railcar Building Works will be operated on the route.
Tickets can be purchased at Ukrzaliznytsia's ticket offices and electronic services.
From 25 March this year, the train No. 814/813 Lviv – Chelm will depart from Lviv at 17:02, Pidzamche at 17:13-17:14, Chervonohrad at 18:40-18:41, Ivanychi at 19:18-19:19, Volodymyr-Volynskyi at 19:45-19:46, Kovel at 20:42-20:52, Yahodyn at 21:52-22:52, the Polish border at 23:02 (Kyiv time), and Dorohusk at 22:07-22:12 and arrive in Chelm at 22:32.
From 26 March this year, train No. 814/813 will depart from the Chelm station at 01:12, Dorohusk at 01:32-01:42, the Polish border at 02:47 (Kyiv time), Yahodyn at 02:57-03:28, Kovel at 04:30-07:05, Volodymyr-Volynskyi at 07:58- 08:01, Ivanychi at 08:27-08:28, Chervonohrad at 09:06-09:07, and Pidzamche at 10:37-10:38 and arrive in Lviv at 10:50.