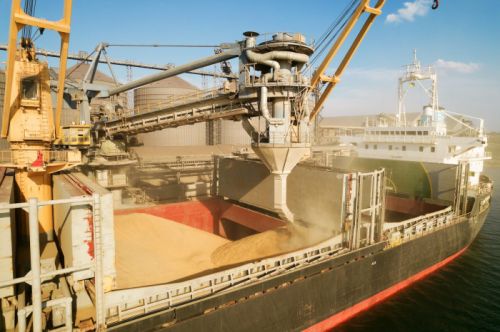 Russian president Vladimir Putin proposed to limit the export of grain from Ukrainian ports on the pretext that a significant part of the grain being sent to EU countries, not Africa.
As CFTS reports citting the Russian newspaper Vedomosti, the head of the aggressor country stated this at the Eastern Economic Forum. Putin said he plans to consult with Turkish president Recep Tayyip Erdogan on this issue.
"If we exclude Turkey, as an intermediary country, then practically all the grain exported from Ukraine is directed not to poor developing countries, but to EU countries. According to the UN food program, which is intended to help countries that need it, only 2 ships out of 87 were loaded. 60,000 tons of food out of 2 million tons were exported on them. Well, this is only 3%, which is sent to developing countries," Putin said.
It is worth clarifying that during the month of operation of the "grain corridor" 68 ships left the partially unlocked Ukrainian ports, the ports of destination of which are located in 18 countries of the world. In total, 1.7 million tons of agricultural products were exported. The largest amount of grain was sent to Asian countries - 726,000 tons. Ships from three Ukrainian ports transported or are still delivering 640,000 tons to EU countries.
365,000 tons of grain from Ukraine have already been sent to Africa. At the same time, within the framework of the UN Food Program (for which the UN is actually responsible), 60.8 thousand tons of Ukrainian wheat have been sent to Ethiopia and Yemen.
It should be noted that Russian president is unlikely to be interested in the problems of hunger in African countries, because by starting a war against Ukraine and blocking its ports, Putin was the first to provoke a food crisis in the world. In addition to blocking Ukrainian ports, the Russian Federation exacerbated this problem by systematic theft of Ukrainian grain with subsequent resale abroad.
In addition, the opening of the "grain corridor" greatly worries Russian grain traders, because it made it possible to bring a larger volume of inexpensive Ukrainian grain to the world market, which creates competition for Russian grain exports.
Read also Russian Army Destroyed An Elevator With Thousands Tons Of Grain With A Missile Attack In Ochakiv