The Ukrainian Railways joint-stock company (Ukrzaliznytsia) and the Ukrainian Ministry of Development of Communities, Territories, and Infrastructure announced the resumption of railway traffic on the Ukrainian-Polish border - Starzhava - Khyriv - Nyzhankovychi - Ukrainian-Polish border railway section (Line 102) on 17 February, following the completion of the repair work on the railway section.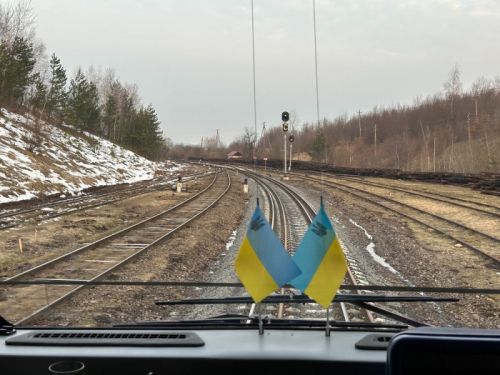 However, according to Viktor Halchynskyi, one of the active initiators of the restoration of Line 102, traffic on this railway section on the Ukrainian-Polish border has not yet resumed as of mid-March.
"Of course, I am aware that Ukrzaliznytsia inaugurated the rehabilitated Line 102 – the European-gauge railway section Nyzhankovychi - Khyriv -Stariava - Smilnytsia – on 17 February 2023... But international trains will not begin operating on this route or on the European-gauge railway section Rava-Ruska - Hrebenne, which was rebuilt last year, anytime soon," he wrote on Facebook.
According to the information that Halchynskyi obtained from an informed source in the Polish Ministry of Infrastructure, "the ministry has received no official information from Ukraine about the plans and proposals for the use of the Nyzhankovychi -Khyriv - Smilnytsia and Rava-Russka - Hrebenne European-gauge railway sections" as of the end of 2022.
According to him, the main problems currently blocking international rail traffic on Line 102 and the Rava-Russka - Hrebenne line are: "The absence of an international railway checkpoint on the Przemyśl - Nyzhankovychi section; the limited throughput capacity of the Smilnytsia - Krościenko - Ustrzyki Dolne (Ustriki Dolishni) - Sanok railway section because of its technical condition; the impossibility of using the Przemyśl - Nyzhankovychi and Rava-Ruska - Hrebenne tracks for freight transportation under the Republic of Poland's current legal framework."
As reported previously, Ukrzaliznytsia completed the rehabilitation of the Berezyne - Basarabeasca railway section between Ukraine and Moldova in August last year. About 10 million tons of cargo are expected to be transported to Ukraine's Danube ports annually through the newly reopened Berezyne - Basarabeasca railway route.
However, discussions and agreements regarding the possibility of launching freight trains on this route are still ongoing as of March of this year.