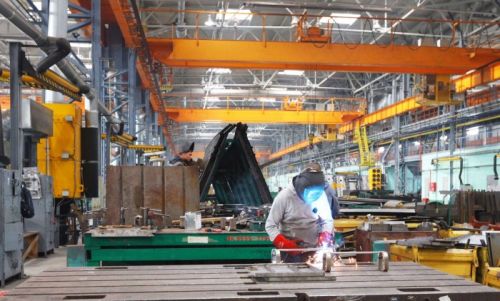 The Kryukov Railcar Building Works is performing tests in preparation for the production of new types of railcars, the CFTS portal reports, citing the Rail Insider online publication.
"Preparations are underway for flow-line production of three models of freight platforms and a 90-foot European articulated platform has entered testing in the third span of the freight car manufacturing building. These products also have sales prospects on the EU market," the report states.
In addition, according to the report, a set of tests on RIC railcars on international routes that were performed at the request of the Ukrainian Railways joint-stock company (Ukrzaliznytsia) were completed successfully on September 16.
"We will soon receive permission to operate them on European-gauge tracks. It is a lot of trouble, but this is the path that leads to the European market," the railcar works' management said.
The Kryukov Railcar Building Works also plans to manufacture new passenger rolling stock for the domestic market.
"We are expected to take the next steps in the creation of new rail technology. We recently attended a meeting of the passenger transport section of Ukrzaliznytsia's Scientific and Technical Council. We hope to enter the New Year with new topics and begin implementing them," the railcar works said.
As the CFTS portal reported, the Kryukov Railcar Building Works announced in June this year that it was ready to present new models of trains to replace the EKr-1 Tarpan model.